But for Idumobo Ujiegba should have been the youngest member of the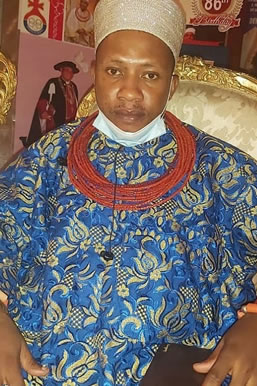 H.R.H Solomon Izuware Onojie of Ujiogba
Southwest Federation of Ebelle, Ogwa, Ewossa, Ugun and Ujiogba. When Ikeakhe the Unlucky was the Onojie of Ekpoma, his own junior brother called Izegbo seduced one of his many wives, since as the Onojie's close brother he had a ready access to the harem. According to Esan custom the penalty for this was death, but since the Onojie was law and in this case he could not exert the maximum penalty, he decreed that Izegbo be banished from Ekpoma. The young man with a few of his possessions left Ekpoma with their most junior brother as his only companion; At Ukpoke, even this precious companion was denied him on the pretext that Ekpoma could not afford to lose two such brothers at once. This younger brother stayed behind to found a quarter at IGUISI.
Poor Izegbo carried on and had to live on his wits; he interested himself in magic and herbs, and as he wandered on he soon became proficient in the art of healing. He trekked on gathering up the lingo of oracle-men and the awe-inspiring oafishness of herbalists, until by the time he got to Benin City, he was the perfect picture of the great Native Doctor.
Within a few months the new great witch doctor from Esan was as busy as a bee, and soon he amassed wealth, a look at which made him nostalgic: he very much wanted to return to Esan to show his brother what he had made of himself. At last he left the City with thirty-one slaves all loaded with property. During the long trek back they rested at a spot which fascinated him, so much so, that he decided to stay and be a master as his unforgiving brother was way back home. Where he made his first cottage became IDUMOBO, the very first settlement in Ujioba. Though later more numerous and more assertive settlers came to rest authority from Izegbo's co-founders many of whom were slaves, the village of Idumobo as its name implies, till this day, is famous in the art of healing.
When Izegbo died, his heir ILEH or OWUZAH carried on his father's profession, many cured and grateful patients remaining to swell the population of the cottage. The renowned Izebhijie who was famous in Esan and Benin during the reign of Oba Ovanranwen, was the seventh son of Ileh. This family can be traced down to the ORDIAS of Ekpoma today as it is interesting that one of Izegbo's descendants is still in the medical clinic and has in the fifty been running the Mental Hospital, Yaba, now known as Psychiatric Hospital; he is Chief Abraham Alegbezehu Ordia who was later a pride to Nigeria and Africa as President of Supreme Council Sports in Africa. As history continues to repeat itself, his son and heir I Idahosa Ordia, is proving himself a renowned Neurosurgeon at Harvard the United States of America - a veritable Chip of Ileh or Izebhijie block
2. EGUARE:
Was founded .shortly, after the death of Oba Osemwede, one whose sons, called Orua being the founder.
3. IDUMUOGO:
The founders came from different places; a majority came from Ekpoma and Urhohi. Idumesi quarter came from Ujagben.
4. UKPATO:
Here is the traditional home of the Iyasele and the Ezomo Ujiogba. A majority of the founding fathers came from Ogwashi (Ogwasl Uku).
5. IDUMUOWELE:
The founders came from Owele in Urhobo area.
6. UKPOKE:
is really an extension from Eguare and received its native because of its position on a hill.
The name Ujiogba which came to cover the new settlement included Izegbo's, followed the end of the war between Orua's domain and the Bini. This war, which was more of slave raids by Binis, scattered the people under Orua to Ogwashi, Ujagben, Okhuesan etc. but when peace rerun many of those who had left began finding their way back home, the meet point being where the present Eguare is now. When some began to demonstrate that they should return to the ancestral Ijie, others answered JE OLE G FO (Jiogba!) (Let all assemble first). By the time they had all assembler a large number to be able to resist the Binis should they return, many put up fairly solid houses and found it impossible to move to their original ancestral home, which today is marked by ALU ORUA.
One of the past rulers of Ujiogba was William Ebegbamen Ighodalo II had been sitting on the Ujogba throne since the 28th of January, 1949. He had his education at the Catholic School, Ubiaja and Uromi. Leaving school in 1944, he became a teacher at Ujiogba Catholic School in 1945. Here relinquished his appointment when his father Ighodalo I died on the 21st December, 1948. After the full burial ceremonies he became the Onojie of Ujiogba on the 28th of January, 1949 and in the year A.D. 1993 he is still waxing strong and effectively on the Ujiogba throne. I have never seen Ighodalo II raise his voice; he allows the many vociferous young men that abound in his domain to have all their say and quietly asserts himself.
III KINGMAKERS:
The elders of Eguare - the Princes form the Ujiogba Kingmakers.
IV INSTALLAnON:
After the burial ceremonies, the actual installation according to Esan custom is performed by the Oniha and the Ikoto or Osukhure.
NOTE:
On Sunday, 6th October, 1985, His Royal Highness William E. Ighodalon came with Chief Matthew Osajedo Eimufia to say "The elders had discovered three more earlier Enijie - they are immediately following ORUA in the order of UARIERE.
OKUDU and IHIMIRE followed by OGBEBO"
My reaction was the Onojie himself, a very intelligent and calculating ruler led the elders who tutored me in 1952 and gave me the genealogical tree of Ujiogba. It is true most informers do add IJIEKHIJIE - meaning "and all forgotten names". Today's elders were senior Egbonughele in 1952 when I collected my materials. While wondering what would make them remember three more names of rulers after thirty-three years, I am recording the three names outside the original tree for researchers.
VI COMMENTS:
Ogbebor had just become the Onojie when the Amahor War broken out in its final fury: That was about 1849.
Right from Orua's time succession had been quite smooth until the death of Oribhabo. He had two sons of whom EKEMEOJIE was the first and heir, while ADEGBE was the second. The heir's mother was quite poor and came from a lowly family; on the contrary Adegbe was surrounded with wealthy men of affluence and had a most vocal mother's family. As soon as Ekemeojie wanted to begin the burial ceremonies of his father which was his right to perform, he was challenged by Adegbe who felt that his senior brother would make anything but a respectable Onojie. A bitter strife followed and from this the influential young man Adegbe emerged victorious. Thus the line shifted from the senior to the junior while the Kingmakers looked on helplessly. They were so helpless that they accepted the vital burial ceremonies from the victor and Adedge was duly installed Onojie.
The over-riding importance of Law 4 of Succession) dealt the Ekemeojie line a lethal blow: succession had passed irrevocably from Ekemeojie to Adegbe. Thus it was an exercise in futility when the Ekemeojie family raised this matter in 1985 and in my minutes under Emu I had written 'verb sap' . . . to warn Emu Kingmakers over the original arrangement they were making with Prince Orukpe when the heir Prince Augustine Imasiemoji Ojealekhe's where about could not be ascertained.