Last update June 25, 2020
Ososo is a clan in Akoko Edo Local Government Area of Edo State with a population of about 200,108 people. The area is between 1,200 to 1450 feet above the seal level. The highest peak lies at 2,484 feet is a border town between Kogi and Edo State.
The historical background is that the Ososo man migrated from Ogbe Quarter in Benin City during the reign of Oba Ozolua in about 1481 A.D. It is also said that the ancestors went through many hardships and suffered so much losses on their way to the Northern part of Nigeria getting to "IDA" a town in the present Kogi State settled down temporarily at a place called ''Unuame'' (water side) where he lake came to "Enidegbe''.
The Ososo man could not find peace due to tribal wars and drowning of his children he left "Unuame" (water side) after the war of the year 1515 A:D and found their way to "Orugbe" in ''Adikhorikho" where they found comfort because of the stream it was also a good land for farming and hunting. This is where he gave birth "Ozshioso" (Ososo) because he could not have his good view of his enemies, he moved to ''Egbegu'' where he sighted "Orhke" where we have the present ' Tourist Centre'' in Anni quarter a place he can vividly view the entire valley and its horizons down to ''Okhekhe" a pond area grown with elephant grasses in "Odokpa" quarter. He went next down to ''Egbetua"" but returned back to "Okhekhe" because of the fresh water and other good essential needs for life and has "Osuno''as a spy hill after settlement, he later discover lkpena quarter.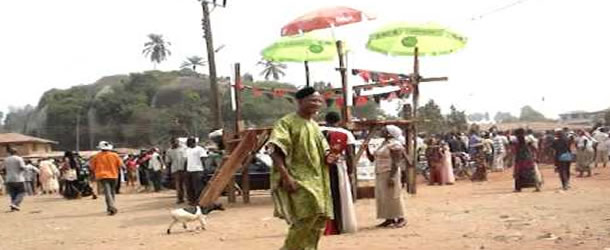 Ososo is made up of four quarters Anni, Egbetua, Okho and Ikpene these quarters has been sub-divided into eighteen since the villages have grown very large and have virtually become one nuclear settlement called Ososo chiefdom.
Language
The entire clan speaks the same language and they have no cultural and traditional conflicts.
Occupation
The people of Ososo are predominantly farmers. Cocoa and oil palm is part of their cash crops and resources. The women do petty trading, cloth weaving and brewing of "pito" beer.
Clan Headship
Ugbedu kindred" in Olehe village Ososo is the particular kindred that produce the king whenever there is vacancy.
Traditional Festivals
Ososo has many festivals. The most important one which embraces the entire town or chiefdom is "Itakpo" festival which takes place ever seven (7) years. This festival brings men - young men into maturity - or manhood. When a man accomplishes this stage, he is now regarded as an elder and can sit in the council of chiefs and elders and make his own contribution to the issue affecting the community. There are other festivals like "Owa" which takes place annually. And of course, there is a borrowed festival from Okene which most people celebrated annually it is called "Ulehe" Christians don't take part in this festival since parts of it are fetish.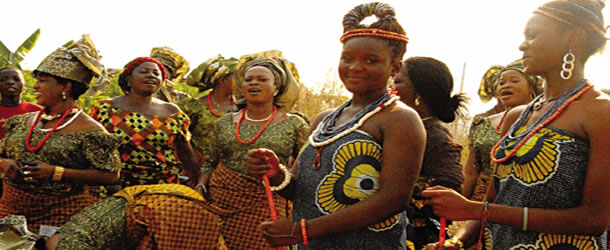 Religion
It is claimed that Christianity is the main religion of the Ososo people. Islam is practiced on a small scale. Those who belief in African traditional religion have their shrine and priest there too.
Marital Rites
Ososo chiefdom has simple bride price (a) 30 tubers of yams (b) suitcase with some bridal clothes, like wrappers, head tie, under wears shoes etc. (c) an umbrella (d) 28 cowries and about N1000.00 and many more . Ososo people do not discriminate in issues of marriage. They also have an open door policy for non indigenes. Today, the social taboos about marriage are over in Ososo people marry from anywhere in Nigeria - even oversees. They do not have an inhibition in marrying anywhere in the local government - Akoko-Edo - or in the entire Nigeria.
Ososo kindreds
Ososo have Olehe with three kindreds. vis
OLEHE EGBETUA IKPENA
Ughedu Obiomokiye Udu
Oporipo Uduoke Oshemi
Ubereni Anni Ode
These kindred foster unity among their difference groupings. They make sure there are no conflicts with other groups. They also have Anni oldest among the early settlers. This village in size remains the smallest refuses to grow fast like the others. However in spite of their size they are accorded their seniority status.
Traditional Dressing
In dressing Ososo people have a combination of native attires and western dresses.
Delicacy
Ososo people are good eaters their staple food is pounded yam. They also eat eba, amala, rice and beans.
Land Ownership
0soso people have communal and family land in their clan The Olosose of Ososo owns all land in principle as he hold all land in trust for the government
Traditional Medicine
Herbal medicine which is also called traditional medicine - simply put as
Trado-Medicine is operational. They are used side by side with western drugs.
They are effective here the people of Ososo do not rely on western alone. In fact, their traditional medicines complement western and Asian medicine here.